Our School
About
Since 1965, Brentwood Elementary has provided quality education to the community in a safe, positive learning environment. A dedicated team of 25 teachers, 25 support staff, and the parent community work together to help all students develop to their full potential.
Administration
David Roper, Assistant Principal
Motto
Brentwood has a Tradition of Excellence.
Mission
To inspire students to realize their potential through unique opportunities and teamwork in an engaging environment. Brentwood is a diverse community of learners that grows tomorrow's leaders today.
Philosophy
Staff and students continue to emphasize the academics in the four core subjects. In addition, strong programs are offered in physical education, health, French, art and music. Technology is incorporated into classroom instruction in most subject areas.
Education Plan
Supply Lists
Programs and Services
Three unique programs operate at Brentwood. Our programs include: Elementary Program for Kindergarten to Grade 6, Logos Christian Program from Kindergarten to Grade 6, and Special Education Program (GOALS, Division I, Division II). While protecting the integrity of each, all staff and students work together as part of the Brentwood Family. One special initiative that helps to build school unity is the Character Education program.
School Profile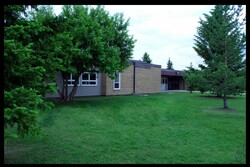 Located in the heart of Sherwood Park, Brentwood is home to approximately 433 students and 40 staff members. Garry Russell is the principal and David Roper is our assistant-principal.
Brentwood School offers two programs; an elementary program for students in Kindergarten to Grade 6 and a Logos Christian Program from K-6. In addition, special education services are offered including: GOALS classes at Division I and Division II levels.
Brentwood School has an Elementary School Council and a Parents' Logos Society which meet regularly to provide valuable input for the operation of the school.
Brentwood is a school with innovative programs which respond to changes in education. Coupled with this progressive attitude there is a healthy respect for the school's culture and history. The two work together to support a Tradition of Excellence.
School Mascot

Spot, the bobcat, is Brentwood's mascot and is featured everywhere - framed pictures, school letterhead, t-shirts and hoodies.
Nut Aware

Our staff and students need to work together to make our school a safe place for everyone. Like a family, we need to help, support and be kind to each other. In our school, we have children who have life-threatening allergies to peanuts, nuts and nut products. Consequently, we would like Brentwood to be a "no nuts, please" school to ensure the safety of these children. Parents are asked not to send any nuts or nut products for snacks or lunches.
We cannot guarantee an environment which is 100% safe for children with allergies, however, we do want to ensure our school is as safe as possible.