Back to all posts
Posted on
Brentwood this Week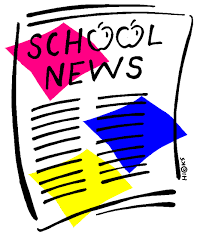 Monday, October 3rd - Read in Week Begins
Wednesday, October 5th - Early Dismissal/World Teachers' Day
Thursday, October 6th - Sibling, Group B Kindergarten & Retakes Photo Day/Snack Shack
Friday, October 7th - PD Day NO SCHOOL
Monday, October 10th - Thanksgiving NO SCHOOL
Snack Shack
Baked Potatoes with Butter Money and Order Form Due TODAY! Hot buttered Baked Potatoes.  $5 Cash only.  Please submit forms and money to the students' teacher.
School Photos Group B Kindergarten, Sibling & Retakes(With form)
IF your student was absent on original day, then they will get photos taken (no forms needed)
ALL ordering is done online and pictures will be sent directly to your home when ordered.
Sibling photos are for students ONLY at Brentwood, no outside family members.
Sibling photos forms will be sent home today or you can print off the website.  1 Form per family and must be handed to the photographer.
There will be no more days for retakes, you would have to contact the photographer directly.
Any questions please contact Studios Photography 780-468-4929 https://www.studiosphotography.ca/contact/
Attendance Reporting (Please report to the OFFICE by 8:30am available 24 hrs/day)
ALL ATTENDANCE TO BE REPORTED TO: OFFICE OFFICE OFFICE https://www.brentwoodelementary.ca/contact Choose Attendance
If possible could you please state if your students absence is illness-related, and describe symptoms.  Example - Timmy Smith will not be in school today as he has a fever and headache. Lola will not be in school today as she has a stomach bug.
If you are leaving throughout the day, please inform the OFFICE.  
We take attendance in the morning and afternoon for all students.  If you know your student will NOT be attending that day, morning or afternoon or any future days, or leaving throughout the day please let us know via voicemail message or attendance email or my email with a reason by 8:30AM. (Available 24/hrs/day) Thanks everyone for your help.
Permission Click
EIPS has begun migrating school and Division forms to the online Permission Click platform. Many families will have already received one or more forms within the new system. Permission Click makes the form submission process for families simple and straightforward. Forms are also easily accessible and fillable from your mobile device. Families will generally receive forms in one of two ways—sent as a link within a SchoolMessenger email or in a direct email from Permission Click sent to the first parent or guardian on record in PowerSchool. Be sure to add notifications@permissionclick.com to your safe sender list to ensure required forms aren't mistakenly directed to your junk mail folder.
Parents/Family & Visitors 
We are so excited to welcome you back to school.  Please note families must check in at the office.  Families can still NOT walk around the hallways unless as a scheduled visitor.  All student items can be dropped off in the office.
Anyone who volunteers at our school for any reason including field trips must complete the BWD Confidentiality Undertaking, and Declaration for Volunteers. https://permission.click/Xp7v9/ca#/signee
Celebrating World Teachers' Day: October 5
October 5 is World Teachers' Day! Launched in 1994 by the United Nations Education, Scientific and Cultural Organization (UNESCO), World Teachers' Day is celebrated annually around the world as a way to recognize teachers and the integral role they play in providing quality education to students. On October 5, Elk Island Public Schools (EIPS) encourages all of its students, parents and community members to show their appreciation for their teachers and the positive impact they make on our lives.
EIPS extends its heartfelt thank you to all Division teachers for their dedication, hard work and commitment in guiding and educating students through their kindergarten to Grade 12 years.
Lost and Found
Overflowing!!  The lost and found box is conveniently located near the front doors.  Families are welcome to come take a look.  
Drop Off/Pick Up & PARKING **REMINDER**
Please review the Brentwood Elementary traffic flow map to ensure you are using the designated drop off areas for students in the morning and after school.  As our volume is high at those times, parking and leaving your vehicle is not permitted in our drop off lane. Please use Visitor Parking.
We ask that you not park/stop in our fire lane (behind staff parking) as it needs to be readily accessible for emergency personnel.
**Families, please note that staff are assigned parking stalls.  Staff have staggered start/end and break times and many times families have parked in the assigned stalls. If and when visiting our school could you please park in visitor parking only. Thanks so much.
STUDENT ALLERGIES
In our school, we have children who have life-threatening allergies to peanuts, nuts and nut products. Consequently, we would like our school to be Nut Aware to ensure the safety of these children.
Parents are asked not to send any nuts or nut products for snacks or lunches.  It is very important to check the list of ingredients to ensure that items are safe. The school will do its best to monitor all foods.
We realize that we may not be able to create an environment which is 100% safe for children with nut allergies, but we want to ensure that our school is as safe as possible. We will certainly be on the lookout for peanut butter sandwiches, nut granola bars and cookies with nuts as these are items which are particularly dangerous.
Even items that contain the warning, may contain traces of nuts, may be dangerous to a small percentage of children who have allergies that are at the life-threatening end of the spectrum. We ask parents not to send these items even if they are a minimum threat.
When food items are brought in by the staff or volunteers for special events, every effort is made to ensure all products are nut-free.
In the event a child does bring a nut product to school, they will be asked to put it away and eat it at home. A reminder to parents will be communicated. If it is the child's main lunch, they will be sent elsewhere to eat.
Because we have children who are severely allergic to animals, we are particularly careful about having animals brought into classrooms. This may occur if it is part of a teaching unit and the teacher is confident that no one will be adversely affected.
Our staff and students need to work together to make our school a safe place for everyone. Like a family, we need to help, support and be kind to each other.
Scent Aware Environment
Elk Island Public Schools is a scent aware environment. The entire school community needs to be aware of and respect the potential adverse impact of odours and scented materials on the health of others.
Staff and students are expected to cooperate with site and division controls or initiatives that limit or eliminate the use of perfumes and scented personal care products whenever possible. This may also include highly scented flowers, cigarette smoke on clothing, air fresheners and essential oil diffusers.
Agendas
**For families that have already purchased agendas please note that the charge should have been $3 instead of $4.  The $1 credit will be showing on your PowerSchool account. 
Agendas are ready for students that teachers have requested them.  Please login to PowerSchool and pay the $3 fee. *We do not have extras at this time for other students to purchase*
Emails Please subscribe/unsubscribe
If you have signed up to receive our emails and have not been getting them, please check your spam or junk. https://www.eips.ca/contact/subscribe 
*If you have an email change please update in PowerSchool and then it takes 24hrs to sync and then you can subscribe. 
Covid Information  
https://acrobat.adobe.com/link/review?uri=urn:aaid:scds:US:7614add3-99a1-49fd-83b4-1aa85dfd01b9
Weather https://www.eips.ca/about-us/administrative-procedures/131
Reminder to have your students dress for the weather. Hot - hats and sunscreen.  Rain - jackets, rain boots. Cold-mittens, toques, warm shoes/boots.
PowerSchool https://powerschool.eips.ca/public/
Please keep your PowerSchool updated with all the correct information, medical history and paying of fees. If you do not have an account one will be assigned to you soon.  If you have forgotten your password or locked out, please contact tracy.beaudry@eips.ca
Counsellor's Corner  https://www.brentwoodelementary.ca/counsellors-corner
Caregiver Education Sessions
Alberta Health Services hosts a variety of virtual caregiver information sessions throughout the year focused on ways to support students' mental health. The sessions are free and geared toward parents, caregivers, teachers and community members who want to learn more about challenges impacting children and adolescents. Session topics include anxiety, ADHD, depression, self-harm, technology, teens and teaching leadership skills, communication, resiliency and more Visit Caregiver Education to see the monthly caregiver sessions
Caregiver Education Sessions https://www.cyfcaregivereducation.ca/home
Grandparents Who Parent Support Group (Thursday's October 13th - December 1st)
This program support series is for grandparents who are parenting their grandchild or grandchildren. Some of the topics covered include identifying the impact of family histories, healing practices and skills, understanding your "complex" role, building healthy boundaries, exploring legal issues, and promoting hope. Register for the program by calling Sage Seniors Association at 780-446-3569, or Seniors' Centre Without Walls at 780-395-2626.
For more virtual programming accessible by phone please refer to the SENIORS' CENTER WITHOUT WALLS CALENDAR and the Sage Seniors Association virtual programming calendar.
BGC Strathcona County https://www.scbgc.com/ 780-416-1500
Accepting Registration for Fall 2022 Before and After School Care Programs
MHCB Program(Mental Health Capacity Building) https://www.brentwoodelementary.ca/programs/mhcb-program
Please visit the site for some amazing resources.
Volunteer Opportunity Big Brothers Big Sisters is a wonderful community organization that Brentwood has had the privilege of partnering with.  They provide an in-school mentorship program where they match their adult volunteers with students for one hour a week.  The mentorship program provides our students with academic support as well as a valuable connection with a trusted adult.  If you would like to volunteer with Big Brothers Big Sisters to be an in-school mentor, please contact Tracy Lockhart at tracy.lockhart@bigbrothersbigsisters.ca or 780-420-6352.
Website www.brentwoodelementary.ca
Please familiarise yourself with the website.  It will have contacts, calendars, bell schedules, powerschool access etc.  If you find there is something not on the website, please let me know.
Medicine at School (Forms under Quick Links)
If your child will need medication administered at the school you MUST complete the following: https://www.brentwoodelementary.ca/home/news/post/medical-information
**If you need printed, let me know and I will send it home with the student.
Fees 2022/23 Available NOW
Pay School fees online! School fee information for the 2022-23 school year have been posted on the PowerSchool Parent Portal. All fees are due within 30 days of being posted. To access your fee information, simply log in to the PowerSchool Parent Portal and go to "Student Fees." There you can view your fees and pay online using a credit card.
Don't forget to log in to the PowerSchool Parent Portal regularly throughout the year. Fees are often added to your child's account to cover the cost of certain school activities such as field trips, class projects, athletic-team fees and more. Additionally, junior high and senior high fees can change as courses are added and deleted.
If you're unable to pay your school fees, you can apply to have certain fees waived by submitting an Application for a Waiver of Fees. The application deadline is Dec. 15, 2022.
For more information about school fees, waivers and payment deadlines visit eips.ca. Alternatively, contact Chantelle Grieve at 780-467-5591
Help us Help our School
Save On Foods (Wye Road Location)
Bring all receipts to the school for collection & Save On Foods will donate 5% of sales back to the school. (Lottery, tobacco & pharmacy purchases are excluded from the program)
Mabel's Labels 
Don't forget to support our fundraiser.  No start/end date.   www.campaigns.mabelslabels.com and choose Brentwood Elementary Sherwood Park from the list. Friends and Family sale going on.
Cobs Bread (Wye Road Location)
Anytime you shop at Cobs Bread say you are from Brentwood Elementary School. 5% of your total sale will be given back to Brentwood Elementary School at the end of the school year. Bonus promotions will also be given out throughout the year. It's easy & simple to help Brentwood Raise some dough!!