Back to all posts
Posted on
Brentwood this Week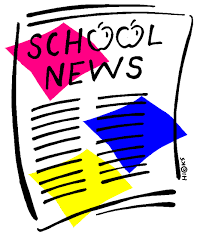 Monday, June 27th - Brentwood in Motion
Tuesday, June 28th - Last Instructional Day! Grade 6 Field Trip/Grade 6 LOGOS Farewell
Wednesday, June 29th- Last day for staff.
Thursday, June 30th, 2022 - Enjoy your summer!
Looking Ahead
Monday, August 22nd - School Office Reopens at 8am
Tuesday, August 30th - School Begins/First day of classes
Monday, September 5th - Labour Day - No School
Wednesday, September 7th - Early Dismissal
Thursday, September 8th - Meet the Teacher
Principal's Message
School year has come to an end. Grade 6 students have completed their Provincial Achievement Tests and all students have been individually assessed on their numeracy and literacy abilities by their teachers. Data that was collected, will be used to assess students' growth and will be provided to their next year's teacher.
Thank you to everyone in the Bobcat community who have volunteered in our school over the last year. A big shout-out to our School Council for the countless hours they have dedicated in supporting the great work our students are doing.
Goodbye to our grade 6 students who will be moving on to Junior High next year. We wish you all the best knowing you are well prepared for the next chapter in your academic journey. 
Welcome to our new families who will be joining the Bobcat community next year. I look forward to working with you. 
Enjoy the summer break!
Lost and Found
Final Lost and Found. Items have been placed on tables inside the main front door. Students will be encouraged to take a look through the items. Families are more than welcome to come and take a look also. All items will be packed up and donated Tuesday, June 28th in the morning.
Thanks everyone!!!
Pick up of Personal Belongings
Please note all student belongings MUST be picked up by 3:30pm tomorrow.  If your student is/was away the last day or two, their belongings will be bagged and stored at the front for pick up.We will not be storing them through summer time.  Thanks everyone.
School Supplies 2022-2023 STILL AVAILABLE FOR ORDERING 
*Still an opportunity to order, the supplies will be sent to your home($10 fee)
Metis Nation of Alberta - Gear Up for School
Will your child be attending preschool, kindergarten or Grade 1-6 in 22-23?  We are offering free school supplies to Metis families for the 22/23 school year, and we are delivering them right to your door! Who's eligible?  Children enrolled in preschool, kindergarten, or Grade 1-6 beginning September 2022.  Alberta residents and parent/guardian must be an MNA citizen. Complete the application form and get yours before they're gone! https://forms.gle/3TDmyDRKgt6rddGA8
Medicine at School
Does your student have medication at the school?  Please make arrangements to pick up or let me know a plan.  We cannot keep medication over the summer.  Thanks everyone.
2021-22 EIPS Parent Survey: Results now available
The 2021-22 EIPS Parent Survey results are now available. In March, the Division conducted the annual survey, which helps EIPS gauge its progress toward meeting the goals and priorities outlined in its Four-Year Education Plan. Families were asked a series of questions about their experiences with EIPS and the school their child attends, the overall performance of the Division, the quality of education being provided to students and areas for improvement.
Thank you to all families who took the time to share their feedback with the Division. Overall, the survey received 3,450 responses from parents and guardians across EIPS. EIPS, and schools, will now review the feedback in detail and use it to develop new strategies to serve students and the wider community better.
Fees PLEASE PAY ASAP
Please log on to your Parent Portal to view and pay school fees, or contact chantelle.grieve@eips.ca for any help you may need . *If you receive a letter and your fees have been paid, please disregard. Thank you everyone.
Tools for Schools
Brentwood Elementary has once again partnered with the United Way for the 2022-23 Tools for School campaign. Annually, Tools for School provides backpacks and school supplies to students in kindergarten through Grade 12 whose families have limited resources. If you're a parent or know a parent who needs access to the program, contact the school directly. Staff will discretely provide the backpack to the child at the beginning of the 2022-23 school year.
Alternatively, if you'd like to donate to the program, you can pick up a few extra supplies when you're out shopping for back to school. Drop-off boxes are located at the EIPS Central Services office, all Staples locations and various businesses in the community. Any supplies donated within the community are invested back into the region.
For more information about Tools for School, contact Tanya Suprovich at 780-922-2066 or call the EIPS Central Services at 780-464-3477. United Way Tools for School: 2022-23
Mabel's Labels 
Don't forget to support our fundraiser.  No start/end date.   www.campaigns.mabelslabels.com and choose Brentwood Elementary Sherwood Park from the list. Friends and Family sale going on now.
Student Transportation: 2022-23 registration is now open
Planning to use Student Transportation in the 2022-23 school year? If so, make sure your child is registered so Elk Island Public Schools (EIPS) can plan routes and send your child a bus pass before the first day of school.
All students who indicated needing transportation services through the returning student registration process are now registered. Families registered will receive tentative route schedules and invoices by the end of the month—fees are due June 30, 2022.
For those students who didn't indicate needing transportation service through the pre-enrolment process and want to now register, simply contact EIPS Student Transportation at 780-417-8151 or email st@eips.ca
For more information about EIPS Student Transportation visit www.eips.ca/transportation
NOTE: Families can pay fees online using the https://powerschool.eips.ca/public/ To pay in-person contact Student Transportation to make an appointment.
Kindergarten Registration still accepting Applications
Do you have a child registered in kindergarten next year? If so, make sure to attend Brentwood Elementary upcoming Kindergarten Information Night on Thursday, May 26th @ 6:30pm. You'll get to:· tour the school;· meet the teachers;· gain insight on play-based learning; and· see what a typical day looks like.
To make the transition to school as smooth as possible, Elk Island Public Schools has put together a toolkit for families. The kit includes information about registration, important dates, programming options, what to expect, eligibility, finding your designated school, transportation and more. Find it at: https://www.eips.ca/programs-services/early-learning/kindergarten
Additional information about Brentwood Elementary's kindergarten program is available on the school website. https://www.brentwoodelementary.ca/kindergarten
Little Elk Island Adventures
Elk Island Public Schools is once again planning to run the Little Elk Island Adventure, a fun and informative program for first-time school bus riders.
Annually, Student Transportation offers the Little Elk Island Adventure to new riders and their parents. The program's aim: To help introduce families to busing so they feel comfortable and at ease before even starting school. Through a series of activities, riders learn about school bus safety, danger zones, tips on boarding and how to sit properly on the bus. After that, both the children and parents hop on the bus to practice what they've learned by venturing out on a short ride.
The Little Elk Island Adventure is for first-time school bus riders entering the 2022-23 school year. The tentative session dates and times are as follows:
Location                                              Date*                                  Time*
EIPS Central Services                      August 16                            5 p.m.
EIPS Central Services                      August 16                            6:30 p.m.
EIPS Central Services                      August 17                            5 p.m.
EIPS Central Services                      August 17                            6:30 p.m.
EIPS Central Services                      August 19                            5 p.m.
EIPS Central Services                      August 19                            6:30 p.m.
EIPS Central Services                      August 20                            10 a.m.
SouthPointe School                         August 18                            5 p.m.
SouthPointe School                         August 18                            6:30 p.m.
* Dates and times may change depending on the province's public-health measures.
** SouthPointe School locations are for students attending schools in Fort Saskatchewan.
EIPS Central Services is located at 683 Wye Rd., Sherwood Park
SouthPointe School is located at 11 SouthPointe Blvd., Fort Saskatchewan
Space is limited and pre-registration is required.
More information about busing for kindergarten children is available at: eips.ca/transportation/kindergarten-busing-faq.
Preparing for Kindergarten Series
The EIPS Early Learning team has planned several sessions for families with children starting kindergarten in the fall to help prepare them for the year ahead. Sessions will take place throughout May and June.
We invite you to join us for any or all of the upcoming virtual sessions that fit your schedule. Many sessions have both a daytime and evening option. Upcoming sessions include:
        Supporting a Successful Transition to School
        Self Help: Building independence
        Speech Sound Development
        Fine-Motor Development in Young Children
        Literacy in Kindergarten
The full list and schedule of sessions are available online:
Preparing for Kindergarten Series: Sessions and Schedule
NOTE: Links to register were sent to all families with children registered to start kindergarten in 2022-23. Presenters will send the links to join the actual sessions directly to all registered families closer to each event. 
Counsellor's Corner 
**Please visit our website – Menu/Counsellor
CYF Caregiver Education Newsletter https://www.cyfcaregivereducation.ca/newsletter
Some amazing Live Workshops
https://instituteofchildpsychology.com/course-library/?type=live-virtual-trainings
So many amazing resources posted!!  Please take a look and register for these free sessions.
Stay busy this summer!
Keep your kids happy and entertained this summer. 
Every diligent parent is constantly looking for the best summer activities for their kids. Whether it's a local tennis camp, sports leagues, arts and crafts events, there is no shortage of summer activities and kid entertainment that you can fill each summer day with.
There are upcoming online workshops parents/caregivers might also be interested in. www.strathcona.ca/summeropportunities
HIA Camps https://acrobat.adobe.com/link/review?uri=urn:aaid:scds:US:20a198d0-f787-45d7-9a64-f45f1529b76d
AdaptAbilities summer day camps are back in-person in groups - Attached information (about Summer Day Camps) and these links (year-round programs as well) for families that have children/youth/young adults with disabilities. In terms of the Summer Camps, please note that we offer both options: participants can attend one of our summer camps - or one of our staff can accompany a participant to attend a community camp (e.g. a City of Edmonton or YMCA camp).
Summer Camps: https://adaptabilities.ca/our-services/summer-camps/
Year-Round Programs: https://adaptabilities.ca/our-services/year-round-programs/
Summer Programs for Children, Teens and Families
Boost your child's ability to self-regulate, cope with stress and work through challenges this summer. Check out Strathcona County Family and Community Services' free summer programs. New half-day and full-day programs available for children in grades 1 to 6. Space is limited. Programs at a glance | Poster | Full details and registration
Early Years Programs
Some of the programs offered are specifically geared toward families with younger children, including those just starting kindergarten.
Camp Slumberkins under the Sea – Join our friend, Bigfoot, as he jumps feet first into learning about growth mindset this summer. Bigfoot hears lessons from his friends about what it means to try your best, go with the flow, take breaks and keep trying.
July 4-8 or August 15-19
Kimochis Start School – Supporting children and their parents starting kindergarten. Get ready for kindergarten with Bug, Lovey Dove, Huggtopus, Cloud and Hero. Bug shares feelings of shyness and worries about the first day; Lovey Dove reminds us to be friendly to everyone at school; Huggtopus will teach us about social cues; Cloud shows us how to breathe; and Hero lets us know change can bring up big emotions.
July 11-14, July 18-21, August 2-5 or August 22-25
Summer Camps www.strathcona.ca/summeropportunities
Free summer programs for children, teens and families - Attached is a quick Programs at a Glance Flyer
Boost your children and teen's ability to self-regulate, cope with stress and work through challenges this summer.  Check out Family and Community Services' FREE summer programs. NEW half and full day programs available for children in grades 1 to 6.
https://acrobat.adobe.com/link/review?uri=urn:aaid:scds:US:0a9b8f8c-aa91-4cb8-88ff-befef26492b0
Website www.brentwoodelementary.ca
 Please familiarise yourself with the website.  It will have contacts, calendars, bell schedules, powerschool access etc.  If you find there is something not on the website, please let me know.
Emails 
If you have signed up to receive our emails and have not been getting them, please check your spam or junk. https://www.eips.ca/contact/subscribe 
*If you have an email change please update in PowerSchool and then it takes 24hrs to sync and  
then you can subscribe.