Back to all posts
Posted on
Brentwood this Week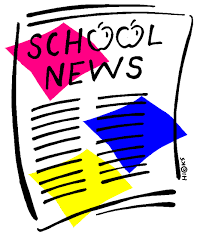 Wednesday, May 18th - Wear your Hockey Team Colors/PAT LA Part A Grade 6
Thursday, May 19th - Snack Shack/Chapel/Lost and Found Donated
Friday, May 20th - School Closure
Monday, May 23rd - Victoria Day-No School
Fees (Final Notice Letters will be sent)
Please log on to your Parent Portal to view and pay school fees, or contact chantelle.grieve@eips.ca for any help you may need . *If you receive a letter and your fees have been paid, please disregard. Thank you everyone.
Generators Needed for Brentwood in Motion June 27th
We are looking to borrow generators all day for our upcoming return of our year-end wellness activity. Please contact Don Vantour at don.vantour@eips.ca if you have a generator to lend.
Snack Shack (Thursday, May 19th @ lunch)
Rainbow Cookies $1
Lost and Found
Is overflowing!!  All items have been placed on tables and teachers will be encouraging students to take a look.  Families are welcome to come and look through the items.  The tables have been placed conveniently at the front doors.  All unclaimed items will be donated on Thursday, May 19th.  
Mabel's Labels 
Don't forget to support our fundraiser.  No start/end date.   www.campaigns.mabelslabels.com and choose Brentwood Elementary Sherwood Park from the list. Friends and Family sale going on now.
School Supplies 2022-2023 NOW AVAILABLE FOR ORDERING
Brentwood Elementary families NOW have the option of ordering school supplies with Write-on Stationery this year.  Please note this will be OPTIONAL.  If families place their order on time they will have delivery to the school in late June(3rd week).  There will also be an option (with fee) for delivery to your home. 
Field Trips are Back!!!!
Yay!!!  Please note that you will receive an email regarding the payment that has been added to your PowerSchool account.  Please log on and pay when received.  Reminder emails to families who have not paid and will be sent weekly.  Permission Forms will be sent home for families to complete.  
Teacher Requests
We will not be accepting teacher/class requests.  Please note that the teachers along with the administrative team and school counsellor  work extremely hard preparing and organizing classes for next year to ensure your student's success.  Grade group teachers meet as a team with teachers of the following grade to plan class lists based on their collective knowledge of the student's needs. Teacher assignments and class configurations will be announced at a later date. Thanks everyone for your understanding.
Yearbooks
We will send an email when available for ordering.
Fees
Please log on to your Parent Portal to view and pay school fees, or contact chantelle.grieve@eips.ca for any help you may need . Thank you everyone.
Student Transportation: 2022-23 registration is now open
Planning to use Student Transportation in the 2022-23 school year? If so, make sure your child is registered so Elk Island Public Schools (EIPS) can plan routes and send your child a bus pass before the first day of school.
All students who indicated needing transportation services through the returning student registration process are now registered. Families registered will receive tentative route schedules and invoices by the end of the month—fees are due June 30, 2022.
For those students who didn't indicate needing transportation service through the pre-enrolment process and want to now register, simply contact EIPS Student Transportation at 780-417-8151 or email st@eips.ca
For more information about EIPS Student Transportation visit www.eips.ca/transportation
NOTE: Families can pay fees online using the https://powerschool.eips.ca/public/ To pay in-person contact Student Transportation to make an appointment.
Kindergarten Registration still accepting Applications
Do you have a child registered in kindergarten next year? If so, make sure to attend Brentwood Elementary upcoming Kindergarten Information Night on Thursday, May 26th @ 6:30pm. You'll get to:· tour the school;· meet the teachers;· gain insight on play-based learning; and· see what a typical day looks like.
To make the transition to school as smooth as possible, Elk Island Public Schools has put together a toolkit for families. The kit includes information about registration, important dates, programming options, what to expect, eligibility, finding your designated school, transportation and more. Find it at: https://www.eips.ca/programs-services/early-learning/kindergarten
Additional information about Brentwood Elementary's kindergarten program is available on the school website. https://www.brentwoodelementary.ca/kindergarten
Preparing for Kindergarten Series
The EIPS Early Learning team has planned several sessions for families with children starting kindergarten in the fall to help prepare them for the year ahead. Sessions will take place throughout May and June.
We invite you to join us for any or all of the upcoming virtual sessions that fit your schedule. Many sessions have both a daytime and evening option. Upcoming sessions include:
        Supporting a Successful Transition to School
        Self Help: Building independence
        Speech Sound Development
        Fine-Motor Development in Young Children
        Literacy in Kindergarten
The full list and schedule of sessions are available online:
Preparing for Kindergarten Series: Sessions and Schedule
NOTE: Links to register were sent to all families with children registered to start kindergarten in 2022-23. Presenters will send the links to join the actual sessions directly to all registered families closer to each event. 
Attendance Reporting (Please report to the OFFICE by 8:30am available 24 hrs/day)  
ALL ATTENDANCE TO BE REPORTED TO: OFFICE OFFICE OFFICE
If you are leaving throughout the day, please inform the OFFICE.  
We take attendance in the morning and afternoon for all students.  If you know your student will NOT be attending that day, morning or afternoon or any future days, or leaving throughout the day please let us know via voicemail message or attendance email or my email with a reason by 8:30AM. (Available 24/hrs/day) Thanks in advance.
After School Plans
Please make all arrangements with your students prior to 2:30pm.  Also it is very very important that if your student missed the bus that they know to come straight back into the school and check into the office.  We have had a few cases of students that have decided to walk home, play at the park and have the school and families very worried.  Please note the office closes at 4pm and staff have had to stay past this time to wait for pick up. We appreciate your support.
Parking
Families, please note that staff are assigned parking stalls.  Staff have staggered start/end and break times and many times families have parked in the assigned stalls. If and when visiting our school could you please park in visitor parking only. Thanks so much.
COVID-19 Daily Checklist and Stay at Home Guide March 2022
https://acrobat.adobe.com/link/review?uri=urn:aaid:scds:US:94b017f9-9188-4ede-a24d-84bfadb478fc
Counsellor's Corner 
**Please visit our website – Menu/Counsellor
CYF Caregiver Education Newsletter https://www.cyfcaregivereducation.ca/newsletter
Some amazing Live Workshops
https://instituteofchildpsychology.com/course-library/?type=live-virtual-trainings
So many amazing resources posted!!  Please take a look and register for these free sessions.
Kimochis & Big Feelings Wednesday, May 18th 6:30-7:30pm
https://www.eventbrite.ca/e/kimochis-big-feelings-tickets-306480921687?aff=ebdsoporgprofile
Parents will be given printable Kimochis feelings and resources so they can help kids learn the names of feelings and they will be given simple and effective communication tools to help their kids manage feelings.
These tools are a helpful response to challenging behavior as the parent can give the child a positive tool to replace challenging behaviors such as hitting and yelling.
In partnership with the Parkland School Division.
This workshop is for parents/caregivers with children aged 3 - 12 years old.
Medication
If your child will need medication administered at the school you MUST complete the following: https://www.brentwoodelementary.ca/home/news/post/medical-information
**If you need printed, let me know and I will send it home with the student.
Website www.brentwoodelementary.ca
 Please familiarise yourself with the website.  It will have contacts, calendars, bell schedules, powerschool access etc.  If you find there is something not on the website, please let me know.
Phone Calls 
We receive many, many calls so please leave a detailed message, and someone will return your 
call promptly. Unless of an emergency, please no phone calls after 2:20pm for after school directions.  Play dates are to be arranged before school.  Email is Awesome!! Thanks so much.
Social Media 
Instagram 
https://instagram.com/brentwoodeips?r=nametag 
Weekly Monday Morning Announcements on YouTube   
Please visit our main website page and click the YouTube sign to play video. 
Emails 
If you have signed up to receive our emails and have not been getting them, please check your spam or junk. https://www.eips.ca/contact/subscribe 
*If you have an email change please update in PowerSchool and then it takes 24hrs to sync and  
then you can subscribe. 
Bobcat Clothing https://brentwoodelementary.entripyshops.com/
Commemorate Grad 2022 With Brentwood Elementary School Store Apparel!
Give them the perfect gift that will remind them of their time at Brentwood Elementary School 
This store will be open all year and the clothing is shipped directly to your home after you have placed your online order. Please visit the website under Quick Links